What Makes Us
Different
What makes us different isn't our product offerings or design expertise, which, of course, we bring to the table. It's the personal attention to detail. The exact reasons that "big-box" retailers offer as their strengths turn out to be their biggest liability. That is their inability, and even unwillingness, to pay close attention to each project. In my twenty years as a kitchen designer, the one thing I've always known to be true is the likelihood of details to fall through the cracks due to neglect. Therefore it is important to manage and guide each phase of a kitchen project in real time and prevent mishaps whenever possible, rather than wait for foreseeable jolts to occur. These include, but are not limited to, backorders, shipping damage, holiday closings, structural surprises, and good old-fashioned mistakes. The goal is a completed kitchen, not simply a closed sale. If I were interested in that, I'd sell clothes or candy, not something that insures contact with my clients over the span of months while seeing a plan to conclusion.
You've heard the expression, "Jack of all trades, master of none." I operate my business with that in mind. Since we don't sell appliances, sinks, or tiles, we can concentrate on what we do best: kitchen cabinets and countertops. I don't offer general contracting services either. I design the kitchens, then supply and install the cabinets and counters. This has allowed me to hone my expertise over the years.
-Michael Mondiello, Proprietor
Industry Spotlight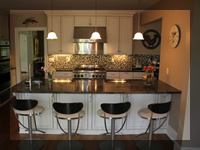 SCHAEFFERSTOWN, PA — Although Plain & Fancy Custom Cabinetry offers an extraordinary variety of finishes, ranging from traditional stains and glazes to innovative brush-mark crackles, classic enamel paint accounts for nearly 50% of all our production...